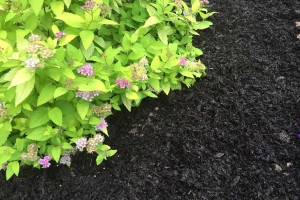 As the owner of Kenning Landscape Design and Maintenance, I am happy to endorse and highly recommend the use of Sweet Peet® organic mulch. I have 20 years experience in the industry, including a degree in ornamental horticulture, and have owned my business for fifteen years. Kenning Landscape Design and Maintenance is focused on high end residential landscaping, installation, and maintenance based in lower Fairfield County, Connecticut.
It was purely by luck that I cam to happen upon Sweet Peet® thirteen years ago. It was recommended to me by someone as a great product to repair lawns. I quickly came to realize its full potential, and as one of the first professionals to use Sweet Peet®, I would drive one and a half hours each way to obtain it.
I am very particular about my client's gardens and it was easy to introduce Sweet Peet® for its multiple uses. It is particularly useful in soil and bed preparations because of its unique combination of neutral pH, nutrients, and minerals. It has excellent moisture retention capabilities, prevents soil compaction and eventually breaks down to become the important organic matter necessary to topsoil, eliminating the need to remove layers of decorative mulch year after year. It is also esthetically pleasing because of its rich, dark color.
Prior to using Sweet Peet® I was limited to using hardwood mulches such as pine bark, hemlock, and color mulches, all of which rob the soil of nitrogen without adding any trace minerals and nutrients. In addition, alternative mulches are unable to breakdown in a timely manner, creating the need to remove layers of mulch every spring, which is labor intensive and costly.
It was a very simple decision to become a Sweet Peet® distributor. It was beneficial to Kenning Landscape, as well as an excellent business opportunity. I knew there would be a growing demand for Sweet Peet® once it became readily available. I am now the largest distributor in Connecticut, selling to landscapers, designers, and homeowners.
Sweet Peet® has become so popular due to the incredible gardening community and its network. These enthusiastic gardeners are always comparing ideas in a quest for the newest plants and gardening secrets. Each person I sell Sweet Peet® to recommends it to at least one other person, who will recommend it to another person, and so it goes.
Sweet Peet® appeals to all levels of gardeners; it practically sells itself on its rich dark color alone. Once people realize all the benefits Sweet Peet® offers, they are hooked for life and would never use another mulch product. Which is why Sweet Peet® is the only mulch product I sell.