Laura Fisher
Laura Fisher Designs | Bedford, NY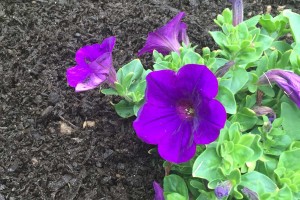 I have been gardening for almost thirty years and I am still constantly amazed at Nature's colors and forms. The garden's textures, colors, and shapes have been the main inspiration for my textile artwork. I prefer deeply textured leaves, like Astilboides tabularis, as it unfurls in early spring; small flowers whose subtle differences are discovered only when studied closely, like the fritillaries, snowdrops, and other species of bulbs; and vines that seem to engulf other plants and shrubs, like Clematis Betty Corning, birdhouse gourds, and Quamoclit.
I am constantly both soothed and dazzled by the garden's surprises—seedlings that have grown in between hidden stones; memories of a solitary white tulip with a single red stripe on it amidst an entire bed of pure white tulips I had planted in the fall; a new lily with the most delicious scent I could imagine; a Papaver somniferum whose seed I had harvested years ago from a dear departed friend's garden in Ireland; and the most important plant to flower for me this year – a miniature rose that my son, Andrew, gave to me for Mother's Day five years ago – his presence still in my garden.
My gardens include perennial borders, a boxwood parterre, grape and wisteria pergola, rhododendron glade, Japanese azalea garden, and a number of mature trees. They are open to the public through the Garden Conservancy Open Days Program. Gardening has brought me great joy over the years. One of the most recognizable features in my gardens is the parterre of architecturally shaped boxwood hedges. We now rent the gardens for photo shoots, and the photographed forms of topiary boxwood are accentuated by the rich color of Sweet Peet® at their bases. Their shallow roots are protected from the summer heat by the Sweet Peet® mulch, which I prefer to use because it decomposes into the soil over time. We also use Sweet Peet® on the new trees that we plant; it helps to keep them weed free and retain moisture during summer. We hand water everything here, and appreciate the preservation of moisture offered by fine mulch.
Please visit www.laurafisherdesigns.com