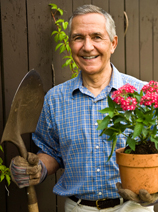 BRAD COOPER
Copper Mulch
Danbury , Connecticut

---
Busy as I am, I wanted to drop a quick note to say that Sweet Peet® is GREAT! We were a bit reluctant to initially take on another mulch when I already had a full product-line offering. I must admit that it was one of the best decisions we have made at Cooper's. Not only do the sales of this product rival the top selling mulches, but the quality of this product is remarkable. It does a great job of mulching, holding its dark color while adding health to the soil. And all this without producing unwanted weeds.
Cooper Mulch
The landscape contractors that specialize in planting beds, love to mix it into the soil when planting new material and turning the old Sweet Peet® into the soil before top dressing the following year. One of our landscapers told me that he always mixes the product 50/50 with the soil, sits back and watches his customer's smile as the plants grow in size, color, and beauty.
Your firm's branding efforts of Sweet Peet® are by far a leading reason for the thousands of yards we sell each year. I love when new prospects call or visit and ask specifically for Sweet Peet® by name.
Please visit us at www.coopermulch.com